Managing stress can be overwhelming. We are here to help!
We are a FREE Warm-line (Help-line) that provides peer support for you.
No matter what you are going through, you can reach out for help here with AMALA.
You can text our line for the same support Wednesdays and Sundays, 6 pm-10 pm anonymously.
The fact that many issues within our community aren't discussed does not mean that many individuals are not facing the same stressors that you are.
Why is a Text-line Important?
AMALA Hopeline is now offering the option to text-in to our lines for peer support and resources. During social distancing, many of our community's youth do not have access to support outside of their homes or the ability for a quiet space to speak on the phone about things that they may need support with. Having a text-line will allow folks to reach out for help regardless of whether they have access to a quiet space or feel uncomfortable talking on the phone. It's not easy to pick up the phone and be vulnerable when expressing your struggles. Messaging in for help is an amazing resource for youth who may not yet feel comfortable with verbally expressing their struggles and needs.
What does support on the Text-line look like?
Our AMALA Counselors are all over the age of 18 and have undergone a 30-hour training before becoming a part of our team. Our peer support team is made up of youth who can relate and understand the struggles that our community's youth is currently facing. Our counselor provides validation and the space to listen to whatever struggles our youth is facing. Our counselors help the folks reaching out to process their own emotions and feelings and guide them to find the options that best fit their personal goals. When you text into us, a counselor will always respond to your message during our open hours.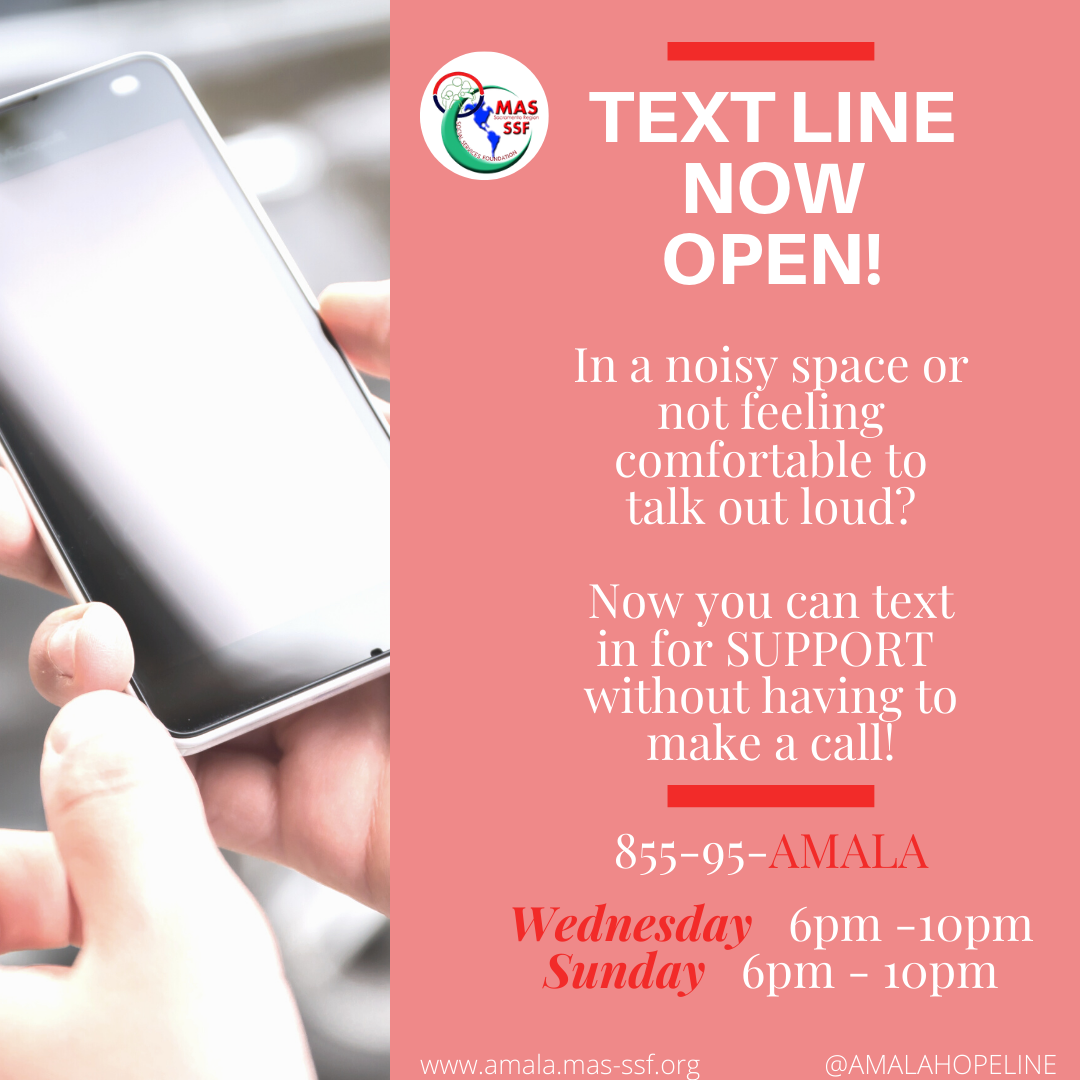 IGTV Feed
View this post on Instagram
View this post on Instagram
View this post on Instagram